Jan Moir Are You Ready To Order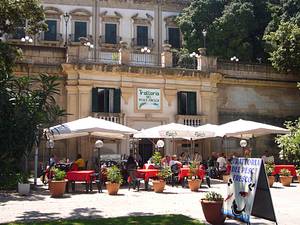 There are a lot of crummy restaurants in Palermo, but Trattoria del Pesce Fresco isn't one of them. Situated down near the port, on a breezy avenue that offers a tantalising glimpse of sea over lanes of traffic, it tenders a respite from the clamour and grime of the ancient centre. More importantly, this particular Trattoria is refreshing and notable in other ways, particularly for being an honest and straightforward enterprise in a city known for the fiscal rapaciousness of many of its catering outlets - especially those intended to appeal to visitors.
There is much to like here, not just the fact that T del P is cheap and good value, and serves espressos in disposable plastic cups which perfectly encapsulate its no-frills nature. I like the unvarnished assurance of this restaurant's name, I like the fact that a fisherman is carrying in two buckets of fresh mussels as we arrive and I like the old-fashioned way all the supplies available today are displayed on a small table for inspection; the six or so different types of wine, the rosy tomatoes, the fresh pineapple for dessert. The downstairs restaurant interior is nothing to speak of: a tiny space taken up by a boxy, glass walled kitchen where a couple of donnas in nylon overcoats toil over bubbling saucepans. All the tables at ground level are al fresco, clipped with red paper cloths, shaded by large umbrellas and set out on a broad, leafy walkway. Customers are tended to by the gruff but kindly owner, plus a spindly retainer who looks like he has been waiting tables since before the Allied Invasion. This does not, however, affect his nippy turn of speed on trips to and from the kitchen, nor the genuine warmth of his welcome.
At lunch, T del P takes simplicity and turns it into a vintage art form. There is no menu. There never is, really, unless you count the dog-eared sample menu which they will fetch if you insist, although the choice is easy enough to grasp. Today there is tomato bruschetta; pasta with tomato; pasta with sardines; mussels: grilled orata – gilt head bream - then ice cream or fruit. The luxury of not having to concentrate on selection is oddly liberating.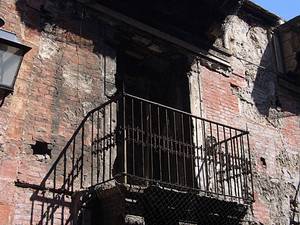 And make no mistake, the third dish available, pasta con le sarde, is the dish of Palermo . It is their trademark and culinary flag; it is to locals here what ragu is to the Bolognese and handkerchief pasta with pesto is to the Genovese. The sauce is made by softening fresh, filleted sardines with anchovies and onions, adding fennel herb, wine and seasonings. Pine kernels are almost always added, and sometimes sultanas and saffron, which hint at the rich, historical flavours and influences of Sicily. As it is served here, mixed with spaghetti as is traditional, the dark, fish-flecked sauce doesn't look like much, but tastes absolutely delicious. S, whose standards on Italian fish dishes, with or without pasta, are stratospherically high, adores it. For the other pasta choice, chopped, sweet, raw tomatoes are tumbled with scraps of basil, and splashed with surprisingly hot chilli oil into a nest of spaghetti. Simple but effective.
Bream dream
The fresh, wild gilt head bream is crisped to perfection under a grill, then served with half a lemon and in an uncharacteristic T del P flourish - a gesture that is almost friskily luxurious by their standards - one pink, grilled prawn. The fish, showered in a carpet of oregano and parsley, is scrumptious. It almost makes me weep to think that this excellent seafood, served unpretentiously in a nothing-special restaurant down by the docks in Palermo is better than most top fish restaurants in London, including Scott's, J. Sheekey, La Poissonnerie de l'Avenue and anything else you might care to mention.
After this, we have slices of fresh pineapple speckled with mint, while trying to dissuade the attentions of one of those cheerful, bleached-looking feral dogs that pad around areas of downtown Palermo like patrolling wolves. Its a lost cause. The determined mutt follows S around for the rest of the day, despite being much ignored. I know how it feels.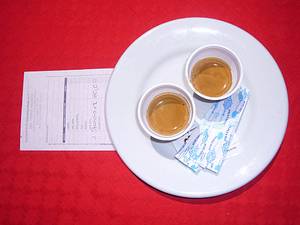 Later that night, still stuck in the city, we sit outside Caffe Spinnato, an elegant Palermo coffee shop, and make the most of it as the temperature finally drops to two degrees below bearable. Here there is a sense of respite and of souls rekindled by chilled bowls of pistachio ice cream and bitter drinks laced with citrus peel. Yet beneath dusty and despairing palm trees, a kind of melancholy lingers, perhaps because the broiling heat of another midsummer morning is only hours away. Waiters in dinner jackets waft between tables, while a pianist in a bow tie picks out sad tunes on a grand piano parked right out on the street. A few tables away, a husband spoons chocolate ice cream into his mouth as wordless tears roll down his face. His wife strokes his cheek again and again, as if he was a baby, or lap dog. S and I have our beloved affogato; scoops of creamy, vanilla ice cream, somewhat shocked by the brisk addition of a shot of espresso. Soon it will be time to go back to our rented apartment, with its faded rose print sheets and 1950s light fittings. But for the moment, the air is still balmy and the memory of the fractious day is soothed by the piano music, the voluptuous ice cream and the eternal melancholia of Palermo itself.
Trattoria del Pesce Fresco, Via Foro Umberto I, 3/a. Palermo, Sicily. Tel: 00 39 91/6169104. Lunch for two, excluding drinks and service, £35. Antico Caffe Spinnato, via Principe di Belmonte 107-115, Palermo. First opened in 1860. Now open daily, from breakfast till late.