Jan Moir Are You Ready To Order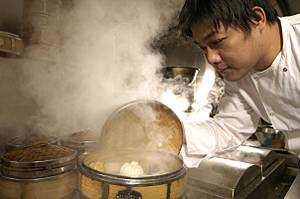 Where can you go to eat around Paddington Station? Are there any nice restaurants in the area? Can you get a decent meal before you catch your train? For many years, the respective answers to these questions were;
a) you canít
b) no
c) yes, stoopid, but not in the vicinity
Now thatís all changing. The Paddington Basin development, just a short walk away from the stationís platforms, boasts at least two notable restaurants, Yakitoria and Pearl Liang. The first is a Japanese restaurant which had a disastrous opening, but seems to be faring better, while the second is an eccentric Chinese restaurant which S and I have grown to love. Where else in the city can you sit outside on a crystal clear autumn day, in a car fume-free environment, with baskets of lovely dim sum and piping pots of jasmine tea? Not many places, says S, sticking a giant, snowball puff of roast pork bun into his face, which keeps him quiet for at least five minutes.
Pearl Liang, which has been open for about ten months, really is in a basin; at the bottom of a kind of concrete and glass amphitheatre in the heart of the new development. It has tables outside and a truly wild interior within; a mad collision of hot, pink bordello; overstuffed banquettes, plus a giant wooden abacus and stately silk prints. Given the current temperatures, itís really only feasible to eat dim sum outside if you do it quickly and thatís certainly not a problem with their Shanghai dumplings, a puckered pouch with a goodly amount of soup, nice pork and a surprisingly thin wrapping. These, says the manager, are more popular than the har gau Ė the steamed prawn dumplings that are always first on any dim sum menu list, and by which, the Chinese say, you can judge the standard of all else that follows. It is all to do with the number of pleats on the dumpling, the transparency and thinness of the casing, plus the quality of the seafood within. The Pearl Liang version passes on all fronts; nine careful little pin tucks, a thin and bouncy wrapping wound around the sweet crunch of juicy prawns inside. So far, both these types of dumpling are far superior to those at Royal China, by which all Londoners seem to judge the standard of dim sum.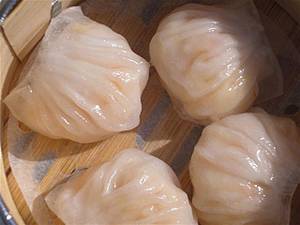 Pearl Liangís list is short Ė 15 steamed, 10 fried, six varieties of cheung fun - but it is nearly all excellent; intricately pleated little dumplings, all well made with good, tight fillings and quality ingredients, always. The prawns, for example, are of an unusually good quality and here there is never the pasty, mouth clag of too much wrapping, which often spoils the dim sum experience. Cheery waiters bring pots and pots of fresh tea without being asked and customers are only charged £1 per person for limitless tea - in the good, old-fashioned way.
Other things we try; pork shu mai; prawn cheung fun; scallop dumplings; pork radish dumplings; and monkís vegetable dumplings; all of which are excellent. Mini sticky rice comes folded inside a lotus leaf Ė which gives off a dark, perditious hit of tobacco when you unwrap it Ė and has a seam of dried shrimp and vegetables chopped through. Grilled Peking pancakes are crisp on the outside and with a pocket of nicely seasoned pork within. In fact, the only thing we donít like is the Four Treasures Roll; alternate chunks of marrow and Chinese yam, dressed with shreds of mushroom, glass noodles and baby sweetcorn. It reminds me of the old joke about the girl called Treasure, because she looked like something that had just been dug up. In this underworld dish, bitter flavours weave through a monotonous squelch of textures; it just doesnít work in any way you care to mention.
ĎThatís right! People order it once and never again. Nobody likes it,í says a waiter, with cheerful honesty, adding that the restaurant is thinking of taking it off the menu.
Puddings include sweet little eggy custard tarts with very light pastry and something called chrysanthemum buns, which I fear you also order only once and never again.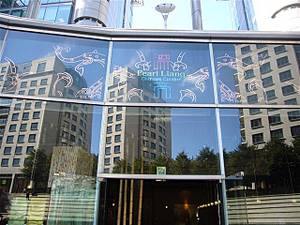 The full dim sum is served from noon to 5pm. A small selection of dim sum dishes is also served as appetisers in the evening.
Intrigue and weirdness
Our dinner visit to Pearl Liang is slightly less of a success, though not enough to lose hope in this intriguing restaurant. On the night in question, the place is packed and lively, with lots of neon-coloured cocktails being consumed and the private rooms creaking with jolly parties. The head chef here previously worked in the Mandarin Kitchen in Queensway, which cooks and sells more lobsters than anywhere else in the capital. Unsurprisingly, lobster is the house speciality at Pearl Liang; done in myriad ways including sashimi style; steamed with Shou Shing wine; chargrilled; or with ginger, spring onion and noodles. We have the latter, which is excellent.
Less successful is a dish called Royal Sea Treasure; a shallow claypot filled with a mixture of seafood including abalone and squid in a dark and glutinous sauce. From a selection of chargrilled dishes which include mackerel and scallop, we have baby squid, which is a disaster. Not only have the squid not been cleaned properly - the cartilage has been left in which is not only careless, but dangerous - I realise that chargrilling ink doesnít work for me unless Iím writing a scorching cheque. Weirdness abounds with skewered king prawns baked in rock salt, then served lollipop style upended and impaled on skewers. After being embedded in the salt, the prawns dry out very quickly. I really donít know why I ordered it.
Yet there is something undeniably good going on here. There is superior cooking in the kitchen and a cheerful atmosphere. Staff overpour wine, in the Chinese way, but this is still a great place. It is a restaurant that is certainly worth a journey, but travellers please note that you can walk on or off the Heathrow Express platform, through a pedestrianised walkway and be here in five minutes flat. Pearl Liang is one of those places that make London a better place to be.
Pearl Liang, 8 Sheldon Square, London W2 6EZ. Tel: 020 7289 7000. Dim sum from £2.30- £2.50 per basket. Dinner, £40 for two, excluding drink and service. Open from 12 to 12, full dim sum service ends at 5pm. Last food orders, 11pm.