Jan Moir Are You Ready To Order
First there were peanut butter and jam sandwiches for pudding at Gordon Ramsay's Maze. Then came burgers made with squid at Arbutus in Soho. Television chef Brian Turner once dabbled with black pudding spring rolls at one of his restaurants in Birmingham, but I wouldn't recommend those to you, not even if you were starving. Now the latest humdrum family food to be given the a la carte treatment is good old sausage rolls, which make a surprise appearance on the menu at London's newest gourmet destination, Hibiscus restaurant in Mayfair.
Claude Bosi, an award-winning chef who has won two Michelin stars, produces the rolls as part of his Herefordshire Suckling Pig dish; a main course which comes in two servings. First, a hunk of roast suckling pig is served with Irish sea urchin, kohl rabi and fondant sweet potato. Then comes what must be Britain's poshest sausage roll, served on a porcelain plate with a little salad and the traditional dollop of brown sauce; only Bosi's version is not common or garden HP, but a concoction of truffle jus, almond oil and balsamic vinegar.
'It's just a bit of fun,' says Claire Bosi, the chef's wife who is also the Hibiscus restaurant manager, as she slips the plate on to the table. I had expected some kind of arty pastry extravaganza, with perhaps a wittily deconstructed bit of pig on the side, but no. It looks exactly like the kind of sausage roll you would get in your local baker, except maybe with a better tan, courtesy of a rich egg glaze.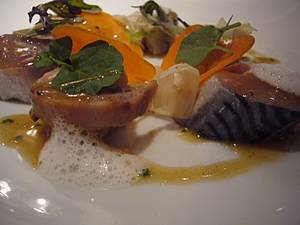 And what does this Rolls-Royce of two Michelin star sausage roll taste like? Completely delicious. Folds of crisp, hot, puff pastry wrap around a seam of pungently flavoured, nicely seasoned pork, courtesy of some of the finest pedigree pigs in the land. The Bosis, who have just moved Hibiscus from Ludlow to London, buy their acorn-fed pigs from a man called Jim Ainsworth, who was the editor of the Good Food Guide before he gave up writing for rearing a few years ago. In purely porcine terms, it's as good a background for a pig as Eton and Oxford would be for a boy, one supposes. Bosi butchers them himself, using the choice cuts for the slow roasted suckling pig, and all the other goodies for the sausage rolls.
Elsewhere, the jolly brown sauce has a dark and furtive flavour, with none of the chemical overtones of the bottled variety, and the salad of autumnal leaves is perky and crisp. What can I tell you? All in all, the Hibiscus sausage roll will knock your trotters off.
Hibiscus opened in London this week, after a summer spent relocating from Shropshire. In terms of menu and décor, the couple have brought many of the elements from Ludlow which made Hibiscus such a success and put the French born Bosi on the map as one of the best young chefs in the country.
The interior of the Mayfair site is serene and stylish, with soft green furnishings and light oak panelling that mimics the décor of their previous enterprise. Mrs Bosi's fondness for natural materials finds resonance in big and small ways; a sheer back wall of inky black slate, rich wool carpets, soft suede tablecloths under a topcoat of snowy white linen, beautiful horn-handled Laguiole knives at every place setting, a simple display of fresh white roses and eucalyptus. Bread is served in nicely crafted oak boxes, a slab of salty butter on a tile of slate, hot parmesan gougeres in hand-made pottery bowls. This is a restaurant that is serious without being humourless, elegant without being stuffy, and which seats around 50 in plump and peaceful comfort, with a private dining room downstairs.
Gutsy and glorious
To begin our lunch, we order an earthy, autumnal dish of mackerel and rabbit and one of langoustine ravioli (which carries a £7.50 supplement). The first is a well-balanced and attractive plate, with plenty of gutsy flavours lurking beneath the pretty tendrils of herb and vegetable. The fish is glazed with a meat juice, while nice little roundels of rabbit (farmed) are prepared in the Spanish escabeche manner; a kind of pickling which S adores. A trio of pale ravioli come capped with a froth of foam and are light and firm; packed with langoustine tail. A main course of yellow fin tuna is generously served and perfectly cooked, presented with a slice of pig's head terrine - which has been caramelised beautifully - and some lovely, fresh artichokes. The pre-sausage roll suckling pig is amongst the best we've ever had; glorious meat under a mahogany strip of perfect crackling.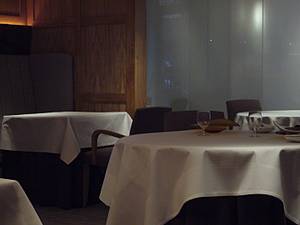 Bosi is a singular chef who trained in Paris with Alain Passard and Alain Ducasse before moving here and making his name. He is a culinary daredevil, whose food combinations often look absurd and even ridiculous in print, but somehow make perfect sense when you eat them. Certainly, he's the only chef on the planet who could make a convincing case for putting the oceanic flavour rush of sea urchin on the same plate as roast pork and somehow make it work perfectly – indeed, it even seems perfectly natural!
Other dishes from this culinary alchemist include starters of roast foie gras with lentils; a beetroot and orange tart with iced feta and herbs; and lambs brains with watercress salad and a native oyster dressing. Main courses include roast venison with smoked chocolate; puree of Savoy cabbage and confit pear in red wine; grilled rack of rose veal with fresh goat's cheese; and sea bass stuffed with wild mushrooms and served with creamed chestnuts and cardamom oil.
If you concentrate, the wine list has some great bottles – with a good representation under £25 - and please note that there is a terrific looking set lunch for around £24 for three courses, with a choice which today included rabbit terrine, Cornish bream and roast partridge
Not everything is perfect with our meal, but perhaps that is to be expected on day one. Timings are slightly out, the automatic sliding door to the kitchen keeps unsliding and our bottle of Meursault Domaine Darviot-Perrin, 2003 is lacking in length but not price, at £65. However, the Bosis have done a monumental job in launching their London venture in such style and we are already booked in for a return visit. For we will never forget a lunch we once had at their Ludlow restaurant, and there is every sign that the Mayfair one will reach the same heights sooner rather than later. Hibiscus is chic and rather fabulous, an individual and soulful addition to fine dining in central London.
Hibiscus, 29 Maddox Street, London W1S 2PA. Tel: 020 7629 2999. The a la carte menu, available at lunch and dinner costs £49.50 for three courses. The suckling pig dish has a supplement of £10. © Jan Moir. Use of images and text published on Are You Ready To Order? must not be incorporated into any other publication, either print or electronic, without permission, and without the appropriate acknowledgements.