Jan Moir Are You Ready To Order
Oh, London society loves nothing more than sucking up to a Russian billionaire, especially one who is going to throw some of his small change in the direction of a restaurant. At the opening party for Sake No Hana, stars and royals queued up to kiss the knee-high leather boots of Evgeny Lebedev, the Muscovite socialite who has helped fund this glamorous, new Japanese restaurant in St James's. Now that all the stardust, free drinks and Elton John have vanished back into the shadows, S and I venture forth into this two-tier temple of oriental delight, where every dish is crafted like a work of art and £1000 bottles of champagne are not uncommon. In the first floor restaurant, once home to the culture crash that was the Japanese-Italian eaterie Shumi – rice flour spaghetti, anyone? – the curving space has now been taken over by sunken tatami mat tables and benches lined with plump cushions. The ceilings, walls and floors are clad in a pale honey wood that looks cripplingly expensive, and encourages the impression of walking into a cathedral where the mute worship of sake is encouraged. Bamboo screens cover the great shards of window in this former bank, and black leather chairs whisper of luxury and comfort. This is what one would expect of the latest venture from Alan Yau, the brilliant restaurateur behind Wagamama, Hakkasan and Yauatcha, amongst others. Here he is more of a backseat driver, operating and managing the business for the Russian owners, who are considerably richer than Yau.
Certainly, the minimalist neutrals and clean lines used here make better use of this site than anything seen here before, but it is still a very, very difficult restaurant space, one that is almost impossible to manage in a democratic way. The main problem is the dogleg shape, which runs in a row of seamless elegance from the bar to the corner, then makes a right turn into a kind of sushi social Serbia. Unfortunately, this is where all the tables for two are situated and where Persons Of No Standing – such as S and I – are hurled as if from a recently ignited cannon. 'If I want to watch a woman spending the evening washing dishes,' says S, as he eyes the activity in a sink to his right, 'I'll stay at home.'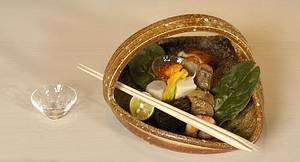 After some effort, we manage to negotiate a move to a tatami table, and this is worth it. They are lovely and extremely comfortable. Each little pod has a heated floor to keep your tootsies warm and a pleasing array of textures to explore, from the silk cushions to the smooth woods, brass chopstick holder and hand blown water glasses. To deliver and remove these items staff must remove their wooden shoes, climb up the steps backwards to the tatami level, spin, then bend down and serve. The beautiful waitresses, in their black, one-shoulder tops, look like a flock of birds as they alight and fly off this ledge. 'It really gets you here,' said the slightly less corvine sommelier, patting his big Antipodean thighs. He pours a 180ml carafe of Masumi Okuden Kanzukuri Junmai sake (£14), one of sixty varieties of sake on the restaurant's list, with a frightening number of them costing over £100. They are divided into sections such as Bold, Creamy, Bitter Fruit, Milky and even Sparkling, although I suspect European resistance to putting such a high value on rice wine will be strong. There is no other wine on the list, excepting 19 varieties of champagne, including Krug Clos du Mesnil (1996) at £1227 per bottle. What can I say? If you want to see how London-based Russian oligarchs and their heirs disport themselves on a cold winter night, this is the place to come. Across the room I can see Lebedev, the former squeeze of Ginger Spice, entertain the kind of willowy beauties you see on the covers of Vogue. Downstairs in reception, bodyguards with shoulders like bison keep an eye on the door. On the table in front of me, a backward bending waitress delivers a bowl of nasu iridashi; sweet, intense sticks of aubergine speckled with toasted sesame seeds and showered with a fairy pinch of bonito flakes which shimmer like flames in the heat of the cooked vegetable. Woo-hoo. It turns out to be the best dish of the evening.
The essence of Japanese food…so what's the beef?
The Sake No Hana menu is segregated by cooking methods: grilled, steamed, fried and braised options are listed alongside the non-cooked, which include excellent sushi selections and a number of salads. From the latter, we also have kani kyuri shogazu, a small bowl of flaked and fresh king crab with cucumber threads, which tastes clean and pure, the essence of Japanese food. From this point onwards, however, I have issues. The moriawase mixed tempura has excellent texture and properly fine and lacy batter, but some of what lies beneath is completely tasteless. The courgette flowers are delicious, but the tempura shimegi mushrooms and frozen, farmed prawns are all a bit of a let down although, to be fair, the slices of tempura pumpkin (kabocha) are a total triumph. Who could imagine that would work? Yet somehow it does. The restaurant uses good quality poultry, shown at its best in a terrific dish of tori nitsuke; a fabulous preparation of chicken braised with soya and sake, with a honey hit somewhere in its depths. Unagi no hitsumabushi features a clay cooking pot of eel rice, with the grains cooked to a crunchy crust on the bottom layer, and the miso coated eel steamed on top. Unfortunately the eel is overcooked. Sawani wan soup is indeed a bit wan.
There are also several luxury dishes on the menu, including white truffle rice with toasted nori (£70) and a braised dish of gyuniku miso ni, which features Japanese beef with miso and 'Japanese baby leek' (£55). S and I have the mushi sabu beef (£70), which involves big creamy strips of wagyu beef cobwebbed with fat, with mizuna, shiitake mushrooms, Chinese cabbage and ponzu sauce. Although the theatre with which this sharing dish is prepared is much enjoyed by S and I, we don't really recommend ordering it. Our waiter unloads a wooden steamer box the size of a beehive, and steams the beef over cabbage at the table, then rolls the slices of meat around the vegetables. Supposedly the best beef in the world? Steamed over cabbage? It just doesn't work for us, and not just because of the cruciferous fumes..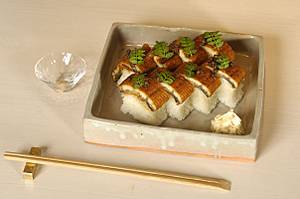 For pudding we have a green tea parfait, served in blocks the consistency of halva, with a winning peanut brittle crushed over the top. We also have a kind of Japanese trifle; a sweet confection layered with plum wine jelly, fruit sorbets, aduki bean paste and crushed berries. The sorbets are so cold I watch S's eyeballs goggle in shock, although both these preparations are delicious and interesting; a rare combination.
Overall, perhaps too many of the flavours are muted, while the sharing concept is haphazard – some dishes are huge (the chicken), while others are small (the crab). The sommelier's endorsement of a carafe of sake which is four times the price of the one we had with our previous dishes does rankle, but we broke our own rule of never ordering anything ad hoc without checking the price first. However, despite these misgivings, Sake No Hana remains intriguing. It is one of those restaurants you have to study to enjoy. The first lesson is this; if you do go, go with a bunch of friends and absolutely insist on a tatami table in the middle of the room. It makes for a much richer experience, in more ways than one.
Sake No Hana, 23 St James's Street, London SW1. Tel: 020 7925 8988.Dinner for two, £100, excluding drinks and service. Open evenings only at the moment. The ground floor sushi bar opens in January.