Jan Moir Are You Ready To Order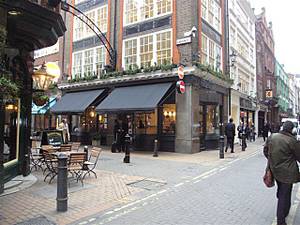 Times are tough out there. A late winter is howling in. The world economy is crashing. Conservative MPs are supposed to feed and entertain their family with only six figure sums scrambled from the public purse. And somewhere in central London a restaurant is charging £2.50 for a slice of bread.
'Be fair, it is toasted,' says S, taking half of the slice of sourdough for himself. He then paws at a plate of jamon Iberico de Bellota (£13), trying to find a slice thicker or wider than the kind of tissue sample you would find flattened under scientific glass. Without success. Proscuitto di Norcia (£8) is served a little more generously, at least enough to let the wonderful flavour of this ham from Umbria, with its nutty overtones, express itself properly. So economically speaking, I'm thinking that perhaps it might be a better idea to order the selection of one, two or three charcuterie items, which include a list of daily specials chalked on a blackboard, and costs £3.50, £6.50 and £8.50 respectively. Ours is delicious truffle salami and some slices of smoky wild boar sausage. Like all the other produce sampled so far, they are good specimens, carefully sourced and nicely kept. Yet whatever you do here, you have to dice with the parsimony of the ham slicer who seems determined - like Christopher Biggins planning his next pantomime appearance - to make those big old legs last until next Christmas. Which is a shame, because with a little more generosity of spirit, this place could be tremendous.
We are in Dehesa, a new tapas-style restaurant that specialises in charcuterie and cheeses imported from Spain and Italy. It is the sister restaurant of Salt Yard, a respected establishment doing much the same thing in a basement over on Goodge Street. This is by far the better site; on a corner along from Liberty, with big, bay windows and a reclaimed oak floor adding to a pleasing sense of space. There are communal tables and individual seating where you can order up a mix of hot or cold meat, fish and vegetable tapas alongside the charcuterie and cheeses.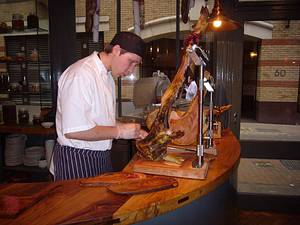 Yet gazing down the menu - which includes dishes such as mackerel a la plancha with quince, apple and pear aioli; wild chicory with grilled blood orange and salsa verde; confit old spot pork belly with rosemary scented cannellini beans; and grilled mussels with lemon thyme - sometimes I wonder if we will ever be able to do tapas properly in this country. Here, restaurants like to serve tapas more formally than strictly necessary. There are usually comfy seats and nice cutlery. Condiments. A herb garnish or two. It is a different experience to the up-at-the-bar, knock 'em back sensibility of the classic Spanish counterparts, which is perhaps a shame.
Flavours of the forest
Yet Dehesa is what it is, and does what it does very well. Tapas of tightly packed salt cod croquetas are served with a thick romesco sauce, while a cold dish of marinated wild mushrooms has a rich flavour of the forest. A pudding of figs roasted in sherry with 'burnt lemon' ice cream is terrific; all sticky and rich, with a caramelized tang to the ice cream. There is also a selection plate of chocolate, almond and pistachio biscotti, a convivial idea to share over a glass or two of sweet wine. The restaurant is also open for brunch (Thursday to Sunday), with a menu that includes ham with figs and scrambled duck eggs with morcilla.
So there are good ideas at Dehesa, named after the expansive area of wooded grazing land that carpets much of Extremadura, a great savannah of land in western Spain which edges up to the Portuguese border. Stop me when this gets boring, but S and I once had a wonderful holiday there. By day we would drive along miles of empty road through the dehesa, with livestock truffling by the ancient oaks and eagles soaring above them. By night we would eat ham by the yard made from the famous black-footed Iberico pigs of the region. These beasts do indeed produce some of the greatest ham in the world, just as restaurant Dehesa claims.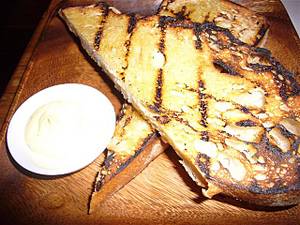 Like the menu, the wine list is split between Spain and Italy. The house red is a Borsao Campo de Borja Garnacha Tinto 2006 (£14.50), which proves to be a remarkably decent bottle, with plum and pepper notes and a good, brick red colour; one of the best house wines we have come across recently. The rest of the list caters for all moods and pockets, with a good selection of bottles under £30 and about half a dozen sherries. There are also around 20 wines priced from £125-£400. Who actually buys these? I have no idea.
Overall, Dehesa has a lot going for it. People love these kind of grazing menus, there are many vibrant, interesting tapas and the restaurant's selection of hams and charcuterie is top class. In an otherwise arid area, it is an excellent venue for groups of friends to meet in the West End without spending a fortune or succumbing to the grot of the local pubs. If only Dehesa would loosen up and transcend a tendency to meanness - £2.50 for a slice of bread just isn't on.
Dehesa, 25 Ganton Street, London W1F 9BP. Telephone; 020 7494 4170. Tapas from £3.25-£7.00.