Jan Moir Are You Ready To Order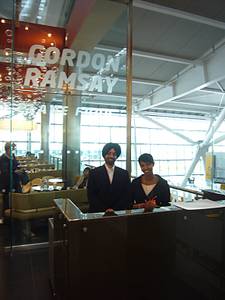 In a newspaper interview, Gordon Ramsay states that he wants to put an end to the 'f***ing disgrace' that is Heathrow airport. Don't we all, big boy! Chaos reigns on day one at T5, as dozens of flights are cancelled due to a baggage glitch. Passengers are stranded; suitcases mislaid and anti-expansion protestors mount a curious, passive-aggressive demonstration in the arrivals hall. However, Plane Food, Ramsay's airside restaurant in the glamorous new terminal, seems to take off without a hitch. On the first day of proper service, smart managers in dark suits deliver watermelon salads, eggs Benedict and glasses of champagne to passengers who have no idea of the mayhem unfolding at the check-in desks. In happy ignorance, we early Plane People study menus that offer salads, sandwiches and pasta or rice dishes; plus six starters, four fish or four meat main courses and puddings. Isn't this delightful? Well yes, in some ways.
We sit on buttermilk calfskin chairs and admire the brave new architecture; huge metal struts like white oaks support a glass eyrie that overlooks two runways and a breathtaking display of aeronautical might. I count 23 jumbo jets parked on the aprons below or trundling past in tremendously exciting proximity. All around, planes take off and land in a vista that arcs over miles and miles of London sky; whether the food is good or not, this is certainly a captivating place to eat. Which, as it turns out, is probably just as well.
Here, Ramsay has promised a civilising airport experience in a restaurant that will be a cross, he says, between 'the Ivy and the Boxwood Café, with a touch of the Wolseley' thrown in. A nice theory, but the harsh reality of airport catering economics and building restrictions means that the only real connection to be made with his statement is the word 'café'. The 175- seat eaterie is rather more cramped that one might expect and the lack of quality in some of the ingredients the kitchen uses is surprising, to say the least. Yet the main drawback of Plane Food, and it is a huge one, is that no naked flames are allowed on site. This means no gas. All the food must be cooked with dull, biddable electricity and even Gordon Ramsay's sorcery cannot save, for example, a Casterbridge ribeye steak with red wine shallot butter prepared in this manner. It is impossible. Without scorching heat, the surface of the steak just thickens and darkens as it cooks, like a parched leather shoe rotting in the rain. Ridges of fat and sinew are left in the sweaty meat because the temperature is not hot enough to get rid of them and it does not help that the steak seems to have little flavour in the first place. I appreciate that the manager takes the cost of it off our bill, yet the faults with this dish point to a deeper operational malaise rather then an initial glitch.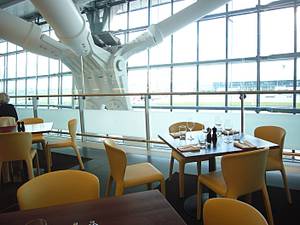 Eggy epaulettes,anyone?
Elsewhere, the menu concentrates on clean, intense, fresh flavours and the kind of dishes rarely found and sorely lacking in stodgy airport outlets. A salad of crab, soya beans, miso, cucumber and shredded iceberg is a good idea marred by too much salt. That is fixable although the crab itself is pasty and unconvincing as a main ingredient. Celeriac risotto dressed with rocket and wafers of Parmesan is delicious and cheering; the rice properly al dente and the toasted pine nuts an inspired addition. A dish of salmon ceviche needs, again, a better quality fish to make it commendable, while the red chilli, coriander and spring onion dressing is, considering the punchiness of the ingredients, curiously tasteless. There is an interesting combination of steamed wild sea bass with white asparagus in a lemongrass nage; it is one of those dishes that is not quite right today, but will probably improve in time. A glass of something nice alongside a Caesar salad with maple-glazed pancetta and a soft boiled egg seems as good a way as any to while away the empty hours before a flight, whereas a £9.50 Croque Madame sandwich is an uncompromising squelch of glassy squares of lurid, cheap ham, horrid cheese and pappy bread; even if it does come flanked with epaulettes of 'pan fried' quail eggs to give it a faux noble bearing. It is hard to see where this sandwich fits in with Ramsay's often stated commitment to quality ingredients and a superior eating experience, but lots of things at Plane Food don't quite add up.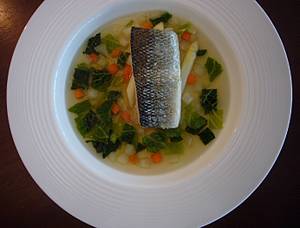 Part of what the customers are paying for here is an escape from the daily grind of the airport encounter. You get a nice view, a comfortable seat and the possibility of something good to eat far from the madding crowd. That is worth a lot, particularly in an airport like Heathrow. If you want a respite from ubiquitous coffee shop muffins you could lag a loft with and those dank pubs that pop up like mushrooms in airport terminals – even here in T5 - then you could do a lot worse. Yet there is more wrong with Plane Food than there is right about it. The food offering is simply not good enough to tempt First and Business class passengers out of their exclusive lounges. At £19 for a ribeye steak (chips £2.95 extra) and £18 for a small strip of sea bass, it is way too expensive for budget travellers. Who will come here, to sit at the blocky little tables and eat this underwhelming food with the strange, undersized cutlery? Only Gordon Ramsay knows. In the meantime, the main problem with Plane Food is that it is a little too close to plane food for comfort.
Gordon Ramsay's Plane Food, Terminal 5, Heathrow Airport, London. Telephone: 020 8897 4545. Three course lunch or dinner, £70 for two, excluding drinks and service.