Jan Moir Are You Ready To Order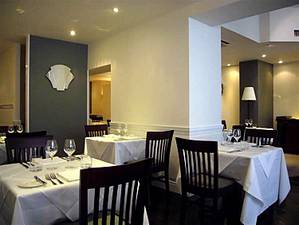 Vegetarian restaurants are like London buses. They're big, red and bendy, and you need an oyster to touch in. No, start again. Vegetarian restaurants are like buses. You wait ages for a new one, then two come along at once, both keen to tempt customers with 101 interesting new ways with nuts and a bill that makes you think: how can a few carrots and a bit of filo pastry be so darned expensive?
A few weeks ago we went to Saf, a new raw vegan restaurant in Shoreditch that was intriguing and confounding in equal measure (review elsewhere on this site). While their beetroot salads and organic cocktails were delicious, Saf's devotion to all things vegan could make customers feel as if they were joining a cult instead of having dinner.
Now we are lunching at Vanilla Black, another veggie restaurant with an equally dogged commitment to non-meat and zero fish eating, although they do permit the application of heat to sundry items in their kitchen. That's right; they actually cook.
Vanilla Black was originally a restaurant in York, but has upped sticks and relocated to London, much in the manner of Dick Whittington. According to their website, they have a 'passion for meeting the challenge of cooking without meat or fish' and a determination to 'increase flavour delivery' which is exactly the kind of catering corporate-speak that makes diners want to reach for the eco-barf bag. The restaurant is situated in Tooks Court, near Chancery Lane, in one of those charming corners of olde London inhabited by lawyers en route to the Old Bailey and Dickensian ghosts. Inside, the décor is all poultice-coloured heritage paints, with old fashioned mantel mirrors and standard lamps dotted around. I think it's meant to be ironic domestic in some sort of vague, 1940s way, but these days you can never be sure if an oversized pleated lampshade is a style statement or a lapse of taste. However, it is comfortable with nice chairs – no leather, I notice - thick napery and good sized tables. It is also completely empty and thus devoid of any atmosphere except my neural waves of irritation at being stuck alone with the S creature, who is busy scouring the menu for any sign of the word 'sausages' and sticking his beak into a glass of champagne. Gah.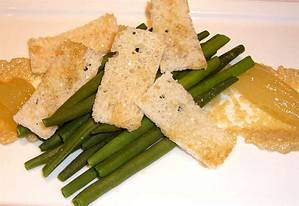 'We've only been open for five days,' says the manageress as she delivers menus and an amuse bouche of small, choux pastry éclairs filled with 'chocolate' and piped with 'cream'. The chocolate turns out to be a form of olive tapenade and the cream is a cheese whiz, in more ways than one. This peculiar theme, of serving savoury foods disguised as sweet things is one that is repeated throughout the menu, with items such as celery meringue and cheesy profiteroles. It reminds me of Linda McCartney's vegetarian 'chicken'; why can't vegetarian food speak for itself instead of pretending to be something else?
Comedy crockery, joke prices
Still, many of the Vanilla Black dishes do sound promising; perhaps just the thing that will jolt the taste buds of vegetarians bored to sobs with lackadaisical baked pasta or variations on a roast aubergine with which they must feel constantly fobbed off in meat restaurants. So, from the starters, we order three dishes; green beans with toasted sesame croutons and lemon; rolled cucumber and peanut vinaigrette with yoghurt, mint and ginger; plus aged feta cheese and toasted orange cake with peach chutney and green olives. These preparations all arrive on rectangular plates, a form of crockery which many have come to recognise as the international distress signal for overweening pretension. That's certainly true of the first dish, which contains a dozen or so unremarkable green beans lurking under a few croutons with dabs of lemon and sesame puree – and costs £8 (plus service. Elsewhere, clean and fresh Vietnamese-type flavours dominate in a dish featuring long ribbons of cucumber rolled around a julienne of red pepper, mooli, carrot and cucumber, scattered with mint leaves and dressed with a peanut vinaigrette, the latter a particularly brilliant idea. Finally, a rectangular plate contains a mound of feta, dense springy chips of 'cake' and a smear or two of peach chutney. Good, tangy olives are packed into a tiny, rubber sealed jar on the side. While this dish has good, strong tastes, it sums up a malaise at the heart of Vanilla Black; their commitment to flavour is clear, but all the swirls and daubs of sauce, the plate painting, the bottled items and the comedy crockery – it's all far too 2002 for comfort.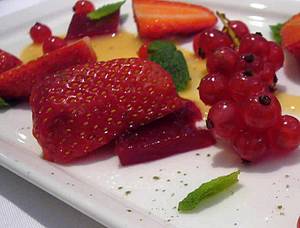 A main course dish of Baked Blue Vinny – in texture, somewhere between a cheese pudding and a soufflé – is robust, but the cheese has made it too salty. It comes with a selection of weird, miniature baked goods; an apple turnover (pastry underdone), dolly sized profiteroles and yes, the celery meringue. What is this stuff? It is like a blob of nuclear strength chewing gum. I try a little, but am scared to eat more in case it rips the teeth from my gums. S has a potato and spring onion rosti that comes with blobs of pea and mint sauce, a bit of tomato concasse and some tiny button mushrooms which are not actually mushrooms but potatoes that have been carved into mushroom shapes. 'Why?' asks S, and there is really no answer to that.
For pudding, a chocolate parfait that would not have been out of place in a tub purchased from a corner shop, despite the affectation of being served on a plate piped with an Equator of chocolate sauce, with tiny cubes of candied pineapple as intervals – perhaps to denote the Congo, the Maldives and the Amazon? Nothing would surprise me.
Yet despite the laboured affectation, there is some semblance of talent lurking in the kitchen. A few of the flavour combinations are rich and true, and many desperate vegetarians will be thrilled at what is on offer. Yet Vanilla Black is a restaurant that is totally out of kilter with the times. If the owners really think that people in London are going to pay top prices for a few shavings of vegetarian food, no matter how artfully they are strewn around a plate, then they are very much mistaken. The final insult is about seven quid for a pudding comprised of three and a half strawberries and a few cubes of jelly. For cress sake, they should stop treating vegetarians like turnips and just celebrate the simplicity and goodness of the produce instead of turning it into an overwrought, pseudo haute cuisine production.
We ordered a Ribolla Gialla 2005 from the middle of the road wine list. I don't know why, because I don't like the Ribolla grape or the straw coloured, apricoty wine it produces. This wasn't the restaurant's fault. But everything else was.
Vanilla Black, 17-18 Tooks Court , London EC4A 1LB. Tel: 020 7242 2622. Lunch or dinner for two, excluding drinks and service, £64.