Jan Moir Are You Ready To Order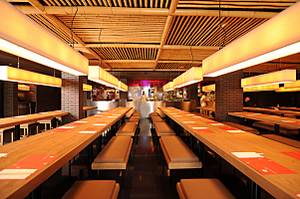 Cha Cha Moon. The name doesn't actually mean anything. Alan Yau just made it up because he liked the way it sounded. And it does, as I reflect over a bowl of his dan dan mian, have a certain irresistible zing-a-ding ring that is so typical of him.
Over the years, Hong Kong-born Yau has emerged, perhaps, as the restaurateur of our times. After helping his parents run a Chinese take away in the Norfolk town of King's Lynn when he was just a boy, Yau started properly in 1992 with Wagamama, the stylish but cheap noodle bar which was an entirely new concept for London, but a smash hit nonetheless. Six years later, a hostile buy-out of the nascent Wagamama chain left Yau an unhappy man, but he moved on to launch further well-received Asian restaurants in the capital. His scope takes in the Michelin starred luxe of Yauatcha and Hakkasan (sold last year for £30million), alongside the cheerful, communal dining of Busaba Eathai. At Sake No Hana, which opened earlier this year, his expertise and advice turned the formerly doomed site in St James's into an exciting, urban Asian restaurant.
And now he is back again, but this time with a more democratic concept and a restaurant that has already become one of the most exciting places in town. Cha Cha Moon is an inner-city take on the type of traditional Hong Kong street stalls that sell modest mian (noodle) dishes to salarymen in a hurry. Here, the food is served quick and fast, and every dish is priced at £3.50.
The restaurant's name is picked out in neon on the grim Soho wall outside, suggesting the kind of raffish encounter one might expect in a nightclub. Yet the Cha Cha Moon interior is has a landscape that is gritty, urban and industrial, right down to the low bamboo ceiling complete with humidifier which goes off every five minutes, spraying microscopic beads of water into the air. Whoosh! Some parts of the open kitchen are behind panels of red Perspex, which gives it a spectral aspect, and the long wooden tables are communal, comfortable and stylish. Oddly, it feels like a basement car park, even though it is not.
What is on the menu here is the kind of healthy, casual, fast food that diners are not expected to linger over; prices can only be kept this low if there is a high turnover. Yet the staff are pretty charming about this, and manage to keep things moving without anyone feeling too aggrieved.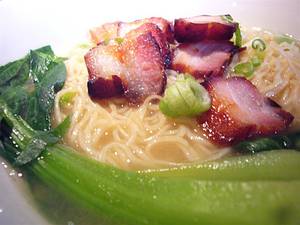 Off we go with the dan dan mian, which is, to be honest, not a great start. The stock is watery and the ingredients used to coat the noodles – a rubble of peanuts and dried shrimp - clag unappetisingly without any real cohesion. Curry prawn lao mian is a mighty big feed of king prawns (and plenty of 'em), lovely, large mushrooms, a nice scatter of crunchy spring onions, some shrimp roe and of course the noodles themselves.
More flavour is provided with the kind of tinned curry powder that is so reminiscent of the dark culinary days of the Seventies, yet somehow it only adds to the allure of this dish. The char sui soup noodle showcases the unavoidable weakness in any new Chinese restaurant, even a Chinese noodle bar such as this. The stock pot is at the heart of any Chinese kitchen, and a new enterprise will have a brand new pot that simply cannot compete with the depth of flavour of stock pots that have been happily bubbling for decades. As a result, the char sui is weak; not helped by the fact the kitchen have used pork belly rather than pork tenderloin and then slathered it with too much honey.
Welcome to the house of fun
Seafood Ho Fun is tremendous; a bowlful of soul for the hungry in a hurry. There are two delicious king scallops, more king prawns, lots of squid and then some chopped red and green peppers, red onion and carrot to give a good bit of crunch. It is all dressed with a black bean sauce over a bed of ho fun (thick noodles). This has got to be the best value dish in London today. Elsewhere there are more delights such as crunchy prawn dumplings packed with sweetcorn, water chestnuts and prawns, beautifully presented in their elegant, translucent casings but hey, what did you expect? Yau is the 'dumpling king', after all. Spring rolls are not bad, Oolong tea served in a coffee pot ripples with enough tannins to stop an ox's heart and there is a choice of three cocktails only; one with a vodka base, one featuring sake and one which is a kind of bellini. Wines follow the same no-frills concept; you choose between pink, red or white. Or you have a beer or one of the many non-alcoholic drinks, which include salted lemon Sprite, Vitasoy, freshly pressed juices and aloe vera.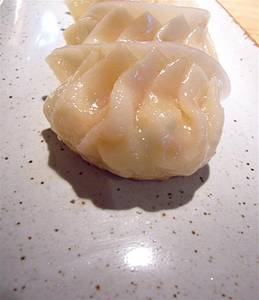 Yau has a great eye for detail and everything is carefully thought out. The food is cheap and healthy – certainly better for you than any gut-rotting chain store sandwich - and Cha Cha Moon demonstrates once more how clever Yau is, and how much he understands exactly what it is people want to eat, and how they want to eat it. This is the perfect restaurant for these straitened times. Not only are British consumers bloated, blasé and paralysed by too many years of variety and abundance, they are also now flat broke. What they need is a nice big bowl of piping hot Seafood Ho Fun and a glass of Wha Lulu to make them feel good again about themselves again. The restaurant specialises in northern and western Chinese staples and there are 36 dishes to choose from, all priced at £3.50. Genius.
Cha Cha Moon, 15 Ganton Street, London W1F 9BN. Tel: 020 7297 9800. Dishes cost £3.50 each. Red, white or rose wine, by the glass only; £4.90 for 250ml. Cocktails; £5 each. Harbin Beer; £3.50 for 330ml.