Jan Moir Are You Ready To Order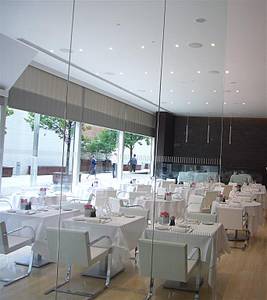 Every time I read that a new restaurant is opening where the chef wants to cook 'contemporary Italian cuisine' in 'chic, minimal surroundings', something inside me dies. For I know what that means. It means eating overpriced pasta with an inappropriate sauce, while sitting on a chair made out of scrap iron with spaghetti metal legs. There will be cheap abstracts on the wall, Coldplay on the sound system, courgette flowers stuffed with snail porridge, bad desserts, warm prosecco, bread that is either incredibly long, long, long or thin, thin, thin and a bill that is always far too big, big, big. Even worse, the menu will be inspired from all over Italy, rather than rippling with the integrity of just one simple region. This kind of attempt at a geographic jigsaw, let me tell you, is almost always a recipe for laziness and disaster.
So my hopes were not high for L'Anima, where chef Francesco Mazzei wants to do exactly that contemporary and chic thing, while being inspired by the dishes of - oh no - Calabria, Puglia, Sardinia and Sicily. On top of all that, the restaurant has been designed by an architect called Claudio Silvestrin who Sir Terence Conran describes as a 'sculptor of space'. Arrgh. It even has something called a brown porphyry and onyx bar, which sounds like something that might appear on your stomach as a warning sign for a deadly intestinal disease. Suddenly a night in chained to the radiator seems like a better prospect than dinner at L'Anima. But hold hard, restaurant fans! Here is the thing.
L'Anima is fabulous. It really is. It is a wonderful new restaurant, one of the best to open in London for a long, long time. For a capital city of world renown, it is odd that we have so few notable Italian restaurants, but here is one that is just as good, and in some respects better, than any other premier league pasta joint you can think of. This is wholly unexpected, particularly in these financial climes, but how heartening to see it open right in the middle of a financial district where, if traders are not exactly throwing themselves out of the window, they are certainly contemplating the view.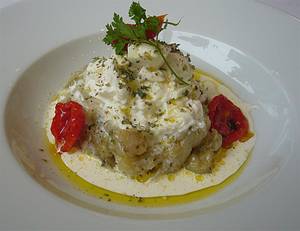 L'Anima is situated in a quiet, grey corner of commerce land and is a startling contrast to its humdrum surroundings. One enormous glass wall on the street gives way to an all-white interior. There are white tables, milky white leather chairs, white walls and an opulent bar area with giant, puckered white sofas. It is all white. It is Santa's Grotto meets Snow Queen Palace in, yes, a chic, contemporary way. It is all rather lovely, with elegant service from pretty girls and a sommelier who is low key but excellent.
An authentic taste of Calabria
The menu does indeed swirl around southern Italy while looping up to Sardinia now and again, but it all makes proper culinary sense. Starters include simple dishes such as a sauté of clams and mussels; crab and avocado with Sardinian bread and a frito misto with lemon; all very summery. Main courses include roast prawns with peppers, and herb-crusted wild sea bass, Sicilian rabbit stew and spit roast leg of lamb. Pasta choices include ricotta and herbs tortelli, and Zitoni, N'duja and Aubergine - a typical Sunday lunch dish from Calabria of pasta with spicy salami, capers, anchovies, oregano and aubergine, with hard ricotta grated on top.
To begin, we have wood-roasted aubergine with burrata. The vegetable is scooped from its purple casings after cooking and formed into a smoky mound while on top is a generous portion of creamy burrata cheese - buttery and rich - the best S has tasted. This dish is finished with a long pour of olive oil, then sprinkled with pepper and parsley and garnished with some roasted cherry tomatoes. Another nice, light summer dish. Home-made taglioni is perfect in every way, with a dense mushroom sauce and a shaving of summer truffle to add a bit of luxe. The truffle turns out to be not the usual pointless bland offering, the type that tastes as if the waiter has just grated cardboard over your food out of spite. No, this is a truffle with a bit of aromatic life to it; a truffle that has lived a little and had something to offer.
Next, a fish stew with fregola, Sardinia's answer to couscous. It is made from semolina and water, rolled into little balls and then toasted. The stew is a mixture of baby octopus, clams, mussels, prawns and squid piled into a tomato sauce that is deepened and enriched with shaved bottarga, then pepped up with a hit of chilli. Tremendous stuff.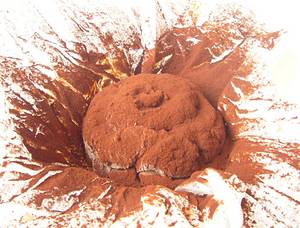 A roasted peach for pudding is a bit boring after all this excitement, although it is nice enough (but not £7.50 nice, as S points out). However, a big, bad cricket ball of dark chocolate iced truffle is another show-stopping thing; a globe of frozen chocolate with lots of hazelnut rubble squirreled inside. It is served in a paper bag, in a dreamy explosion of chocolate powder. It certainly blew me away, as did the whole L'Anima experience.
Here is a restaurant with a pulsing sense of its own luxury serving simple brilliant dishes with an understated, monochrome swagger that reeks of confidence and poise. It is expensive, but why shouldn't it be? The ingredients are the best they can be.
The wine list is almost exclusively Italian, with a dozen or so by the glass, and bottles ranging from £18 to £90. Our Vermentino Riviera Ligure di Ponente 'Le Serre' Lupi, Liguria 2006 is a good, characterful, dry white, quite voluptuous and enjoyable, though it doesn't quite deserve its £46 price tag. Nearer £30 and I'd order it again without a qualm.
S thinks L'Anima is a restaurant for bankers only. He has a point, but it is a lovely addition to the city, with or without a capital C.
L'Anima, 1 Snowden Street, Broadgate West, London EC2A 2DQ.Tel: 020 7422 7000. Lunch or dinner for two, excluding drinks and service, £80. Open Mon-Fri only.