Jan Moir Are You Ready To Order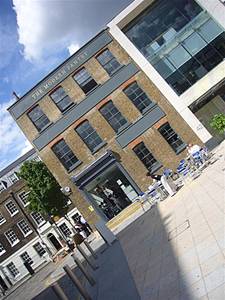 The Modern Pantry started life as a book concept, not a restaurant. Once you understand that, you understand everything. For there is something rather transient and fry-by-night about the Pantry. Something a little cursory about its execution and lack of purpose that might well unsettle the sensitive diner. It's not just the wham bang bang knocked-up MDF furniture or the workmen still hammering away on site. Nor is it the tamarind yoghurt, served with pea shoots pocking its surface and looking as if a gummy toddler had been licking it for half an hour. (Appalling! Didn't anyone in the kitchen look at it before they sent it out?) It is more that in the ephemeral world of fashionable restaurants, this one seems more mortal than most.
Still, at least it is situated in a lovely place. To get to the Modern Pantry, you must cross the cobbles of St John's Square, a handsome chunk of historical London right in the middle of Clerkenwell. The restaurant is housed in a Grade II listed building which stands next to a beautiful Georgian terrace on the fashionable north side of the square. This former tavern, more recently a carpentry workshop, will eventually have a casual dining space on the ground floor with a smarter, more formal restaurant upstairs. At the moment, the former has invaded the latter's space in as rather haphazard way that one cannot entirely attribute to the newness of the venture. The décor? Imagine a Scandinavian chain store works canteen and you're there. The service? Keen as mustard - to chisel every last groat out of your pocket and button off your suit. The menu? It sounds very interesting, but the reality is a little disappointing.
How can this be? For the chef behind the Modern Pantry is Anna Hansen, a talented cook who Are You Ready To Order? has always much admired. Working alongside Peter Gordon, she was one of the founding foursome who launched Providores in London in 2001, and helped turn it into one of the most interesting and enjoyable restaurants in the capital. Gordon's unique fusion of global ingredients with Asian and Middle Eastern spicing restaurant was an instant smash. Diners adored his maverick talent and attention to detail; everything from silky laksa of crab, coconut and squid; to Turkish eggs with whipped yoghurt and hot chilli butter to delicious cups of coffee. Many tried to copy his winning formula, all failed. Now Hansen has branched out on her own with a similar idea, right down to the bi-level dining areas and the exuberant use of long haul items such as miso, spiced pecans, cassava chips, quinoa, tomatillo, chermoula and preserved lemons – the last four all in one dish! 'It's all about the crazy ingredients you can find these days,' she says. Hansen's original idea was to do a book called The Modern Pantry, complete with recipes, showing readers what to do with all this 'wacky' stuff. Somehow, a restaurant emerged from the smoked kelp ashes instead.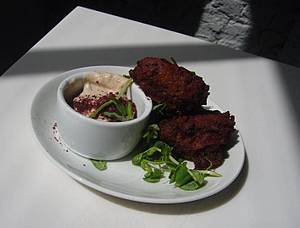 Stick your tongue out
The all-day menu is divided into sections called snacks, small plates, starters, mains and desserts. Customers can mix and match as they please, so we try the chorizo, date and feta fritters with the tamarind yoghurt; octopus slow cooked in its own juices with parsley, lemon and endive; sugar cured prawns whipped up in a omelette with green chillies, spring onions and served with smoked chilli sambal; and a daily special of grilled ox tongue. With the exception of the fritters – absolutely, tub-thumpingly delicious – few things are cooked or delivered with thought or exactitude. The octopus should be braised to a nice, firm texture, but this one is rubbery and bland. Even factoring in the 'small plate' price of £5, the few scraps of cephalopod resting on a blade of chicory still seems mean. The flavours in the nicely prepared omelette sure do burst with life, including the sweet prawns, the leaves torn from a rich, aniseedy basil plant and the puckering sambal – a spicy condiment from Malaysia – but it is plated far too sloppily for comfort. A few slices of grilled ox tongue – it tastes dry and oddly processed – poke through a blizzard of ingredients on a sourdough bruschetta. There is sliced fennel and apple alongside the briny astringency of capers and celery leaves, plus a chunk of pan-fried Manouri (a fresh, seem-soft Greek cheese). To be honest, it's less global fusion and more of a local muddle. It is not a dish, it is an identity crisis.
Other dishes include a beetroot, fennel and leek gratin, served with grilled spring onions, a soft boiled egg and Tahiti dressing; and a salad of wild rice with charred, sweetcorn, spiced pecans, avocado, feta and coriander – vegetarians please note. You might find much to interest you here.
The Modern Pantry, once a book, now a going concern, is the latest project from D&D, the London restaurant group whose insistence on strict profit margins might cramp Miss Hansen's style more than she thinks. Certainly, the photographs published of splendid Modern Pantry dishes produced in the first few days of opening varied greatly, in terms of size and presentation, from the paltry, messy specimens we receive. And while the vegetarian offerings sound exciting, carnivores must be content with the cheaper end of the meat spectrum; poussin, tongue, belly pork, and skirt steak. Sure, there are some nice things to eat, but one can't help but be overwhelmed by the big company ethos to charge the max for the min. In the end, I can see where lovely Anna Hansen is coming from with the Modern Pantry, but I can also see where she is going.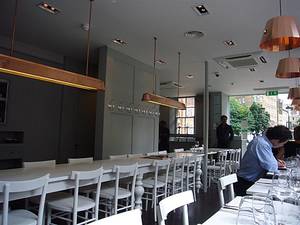 Wine: With over a dozen countries represented, the wine buyer must have had a lot of fun putting this list together. The tasting notes are exuberant, and encourage customers to try " Pouilly without the painful price" a glass of Macon Fuisse'. Actually, it is not that much cheaper. It is also a bit flat and served at a tepid temperature. The Corbieres Rose is of pub wine standard, yet here at MP it is the house rose. Still, there are enough wines here for the diligent to find a good bottle if they try very hard. However, this Pantry needs to be better stocked in every way to succeed.
The Modern Pantry, 47-48 St John's Square, Clerkenwell, London EC1V 4JJ. Tel: 020 7250 0833. Three course meal for two, excluding drinks and service, £55.