Jan Moir Are You Ready To Order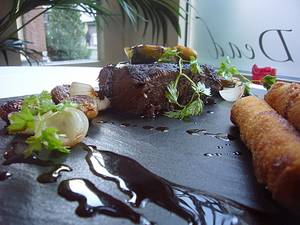 Beef and ale pierogi with a fried duck egg, both sitting in a rich little stew of caramelised onions. Rich, dark and savoury, it is just the kind of thing to kick start a midwinter lunch. The kind when you are going to have a lie down afterwards and get up again in February. What kind of person, I wonder, would cook a winning and yumsome dish like this?
So I ask the waitress, on her next bread and water sweep, who the chef is.
'Oh. He's nobody,' she says, with an affable shrug, and continues on her journey. Interesting.
Nobody I like.
Nobody is not going to rush off filming a six part Christmas series just when I want my pumpkin risotto with chorizo and rosemary. Nobody is not going to spend all of lunch service choosing photographs for his new Quadrille book, 101 Things To Do With Celery String. Nobody I can do business with. However, why would anybody – and indeed nobody - call his new-ish City restaurant by the grisly name of Charlie's Dead?
If the first rule of advertising is that there are no rules, the second one must be; never inject morbidity into your product or service unless you happen to be an undertaker. Calling a restaurant by this name is a fatal mistake. Charlie's Dead? He might well be if he has another plate of beef and ale pierogi. Charlie's Dead? He took one look at his dinner bill and went down like a cut pine. Its just so . . . depressing.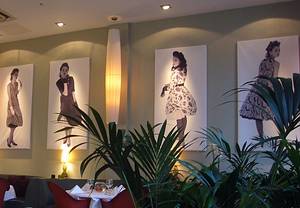 Unless it happens to be a hint that credit crunched City boys have no disposable income left to spend on party drugs. In which case it is – like Alain Ducasse's £105 credit crunch lunch - depressing and tasteless.
Apparently the name stems from a covert phrase once used by flapper girls to tell each other their petticoats were showing. As the restaurant is situated at Petticoat Lane, once the hub of London's lace market, I suppose we must forgive them for the clanking nomenclature and 'most desperate' restaurant concept of the year. The lace motif is writ large across the restaurant windows and half-heartedly stamped across the menu like a lost cobweb. Large posters of flappers whisking their underskirts about are as far as the motif can be taken. Elsewhere, the décor and furnishings – forest green banquettes, red plastic chairs – look like they have been flung together from the discounted section of Ikea.
Dead? Actually it's very alive
Yet despite all this, Charlie's Dead does its very best to add a bit of cheer to this unprepossessing space in a cold little corner of the city. The cocktail bar and the restaurant are crammed together Manhattan style and it has a lively atmosphere, particularly in the early evening. Not surprising, really, as the food is very good and served in large and generous portions. The menu is a parade of favourites, carefully thought out and executed with an original and deft flourish. Starters include a butternut squash soup, into which a few potato gnocchi and sage leaves have been tossed with care. There is home made salmon and coriander fishcakes; terrific diver scallops served with a punchy garlic and lime puree and a well-put together charcuterie plate.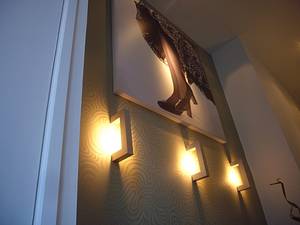 Main courses feature a home made goat's cheese and red onion tart as a vegetarian option, plus two fish dishes (salmon fillet with fennel and olive croquettes; line caught sea bass with beef ravioli, borlotti beans and red wine sauce) alongside preparations of duck and of pork. Charlie's Dead also have a main course of Scottish lobster with mascarpone cheese pancake with a carrot and pea veloute. What is going on with that? You've got me there, Nobody. Veloute and pancake with lobster? If you fancy something simpler, there is also a grill section.
If this restaurant's unique selling point is to feed up hungry City workers with big plates of this flavoursome food, then they might be on to something.. Our main course of stunning braised ox cheek with pickled baby onions is delicious. A big, sticky, tender lump of cheek comes with bubble and squeak; the latter rolled into tubes, crumbed and fried in a very satisfying way.
For pudding, a lemon posset served with shortbread biscuits made with a crunch or two of black pepper; an original twist on a classic.
It is quite masculine, however the food is of a high quality throughout. If you want a good City feed, you could do a lot worse. Please note the cocktail bar menu, which groans with mini cheeseburgers, truffle and parmesan arancini, salt cod and coriander croquettes and even lobster sandwiches. The bartender is friendly and fun; all in all, a good pitstop for a snack or a proper meal.Oh and the chefs name...Dan Merry.
Charlie's Dead, 3 Middlesex Street, London E1 7AA. Tel: 020 7377 0375. Lunch or dinner for two, excluding drinks and service, £60.