Jan Moir Are You Ready To Order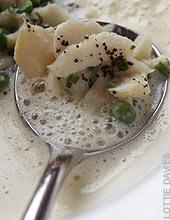 Albannach is a Scottish restaurant situated in the rolling lowlands to the south of Trafalgar Square.
On my first visit, I order a bowl of Cullen skink, a traditional Scottish fish soup made with smoked haddock, milk, onions and potatoes. It takes a long, long time to arrive and, when it finally does, something seems amiss. Lacking. Just plain wrong.
"Is your soup OK?" asks the waiter.
"To be honest, no."
"What's the problem?"
"It doesn't have any fish in it."
"I see," he says.
Later, he returns in triumphant mood, with my braised loin of venison.
"The good news is, your taste buds are correct. That was mushroom soup," he cries, as if I'd just passed some initiation test. The venison is sliced and slabbed across a pile of what the restaurant terms "pomme purée" and drizzled with game jus, presumably because it thought "gibier jus" might be pushing it on the pretentious front and it'd be right.
Anyway, what do semantics matter when the meat is overcooked? Hopeless. Because only two other people are eating in the whole darned place, it's not as if the kitchen is particularly stretched.
What drives me absolutely crazy is that the chef knows it's not right, but sends it out anyway. On our next visit, the waiter brings little cups of soup before dinner begins. Cauliflower soup, sprinkled with black truffle, apparently, but you know something? I think we have met before. It tastes exactly like the Cullen skink that tasted like mushroom soup that's quite possibly related to the cauliflower soup with pressed mushroom that's on the menu. Whatever the hell it is, Albannach's sure got a lot of it. Yes, I am a glutton, but only for punishment.
Apart from a paper statue of a stag and an antler chandelier, Albannach, which means Scot or Scottish in Gaelic, has kept the rampant tartanalia firmly in check. A pity, because I had been hoping for the whole nine yards of Hunting Gordon running up the walls and handsome boys in kilts tramping about with trays of steaming white puddings, which is what we Scots eat when we've run out of haggis and the will to live. After that, it's the suicide dash of the mutton pie and then straight to an early grave.
But here, instead of Brigadoon, it's all airy saloon, with soaring pale-blue walls, and sofas and chairs in shades of heather. The 30-seat restaurant looks like an afterthought, tacked up on a mezzanine level behind a wrought-iron balustrade, although there are views of Nelson's Column if you rest your chin on the table.
Niall Barnes, the young Scottish entrepreneur who raised £2.5 million to launch Albannach, has not worked in the restaurant trade before and this, I'm afraid, is obvious.
The loos are located two floors down and, to get to them, diners must plough through two bars, while the wine list - a vital document - is printed so small as to be unreadable. Elsewhere, if the bar gets busy, the restaurant hovering above it like a spaceship gets too hot. If a lot of people downstairs start puffing, you'll have the authentic Scottish experience of being kippered like an Arbroath smokie.
Also, the numbers don't seem to make sense. Albannach appears too small to generate the volume needed to recoup such a big investment. But really, what do I know? I'm still puzzling over the bookable private drinking dens in the basement, presumably designed to appeal to the inner Scot in you that wants to sink a wee goldie or two under an archway.
So, on with the show. The waiter sincerely informs us that all of the ingredients on the menu are imported from Scotland, including, one supposes, the borlotti beans, the lentils du Puy, the Parmesan, plum tomatoes, rocket and - worst of all - the fresh petits pois in the fish soup. More nonsense. And are they all traditional Scottish preparations?
"Kind of," he shrugs.
A salad of sorts to begin - a great big woolly head of lettuce encircled by one miserly quartered quail's egg, one pickled artichoke, a few spears of soggy asparagus, with the death chill of the cold room upon them and a zigzag of nasty tomato dressing. There's also a very mean portion of scallops, served with a cheeky wee £5 supplement.
Skye monkfish tail? Skye might sound like a nice romantic word to bash down on a menu, but it is noted mostly for its high proliferation of fish farms. However, having said that, the monkfish is firm and tasty and the accompanying broth of mussels and saffron makes good culinary sense - not Scottish sense, of course - although I catch no drift of the saffron and a heavy hand with the chopped carrot has made it too sweet.
Naturally, there is cranachan available, which is the Scottish pudding in the way that Macbeth is the Scottish play. Nobody north of the border ever actually eats the stuff, which is a mixture of whipped cream with toasted oatmeal, usually with some soft fruits folded in.
It's available at a restaurant near you during the Edinburgh Festival and at the Hotel McToshery throughout the rest of the year. To be honest, no self-respecting Scot would ever order it. While we're at it, it's either oatcakes or bannocks with the cheese. It is never, ever oaties.
It would be nice to begin with benevolence and generosity towards these new ventures, but goodwill ebbs quickly upon presentation of a sharp bill. Dinner at Albannach is £30 for three courses, with £5 supplements for the scallops and also for a dish of Buccleuch beef. These are very focused prices for what is vague cooking and an ill-defined concept.
Albannach has got to make up its mind whether it wants to be a restaurant or a bar. Whether it wants to be Scottish or not. And whatever it decides to do, it should do it with integrity and not insult us by having poultry on its menu and calling it Highland chicken. We're not all stupid down here, you know.
• Albannach, 66 Trafalgar Square, London WC2 (020 7930 0066). Dinner for two, excluding drinks and service, costs £60.