Jan Moir Are You Ready To Order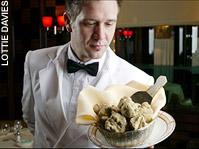 More rubbish is written and said about white truffles than any other comestible. It's a female aphrodisiac, it's more expensive than gold, it will send your taste buds to heaven and back; but will it really?
Like caviar from Iran and foie gras from Gascony, the white truffle from Alba in Italy is supposed to be one of life's ultimate gourmet experiences, but one difficulty here is that the international truffle market itself is so open to abuse.
Even Antonio Carluccio says that ''a big cheat is going on'', with unscrupulous restaurants buying in cheaper, less tasty Eastern European truffles and passing them off as alpha Albas.
With a few shavings of the real thing over a plate of pasta costing about £50, you can see how irresistible it is for those dark-hearted industry cowboys, although obviously, none of the rootin', tootin' good guys mentioned here.
Meanwhile, unless some ham-fisted cook ruins it completely, goose foie gras is always going to be fabulous. And caviar is clearly labelled, graded and packaged, so you know exactly what you are going to get inside the tin.
However, the scent and flavour of a top truffle is more haunting and elusive, while the truffle market, in more ways than one, is underground. To further complicate matters, only truffles sold at the market in Alba can be called Alba truffles, but this does not mean they were grown or located in the vicinity. And you can never get two ''experts'' to tell you the same thing.
I remember Gordon Ramsay saying on the Parkinson chat show one year that because of rain in Italy, the season was short and would be over in two or three weeks.
Yet at his flagship restaurant in Royal Hospital Road a few days earlier, a senior member of his staff told me they would not be putting white truffles on the menu until the end of November ''because they don't develop real flavour until then''. You just don't know who to believe.
In 2005, reports claimed that Piedmont truffles were plentiful, with prices peaking at £1,700 per kilo. Although, like grouse, any positive financial seasonal fluctuations never seem to be passed on to the consumer. What I mean is, the price on the plate never seems to go down, does it?
So are white truffles worth it? The season runs from September to December and during prime time in 2005, S and I went to find out.
L'Incontro is one of those plush, expense-account Italian restaurants that one imagines died out when greed was still good and real men didn't eat quiche, but did wear red braces.
Set in a run of expensive antique shops in London's Pimlico, it is furnished in a milky wash of international corporate blandness and has the most miserable-looking front of house team I've ever seen.
Even if it is truffle central, an early-evening gloom settles over the dining room like a tightly-wound shroud, broken only by the tread of glum waiters on a death march between the tables. S says that his crab salad is fresh and plentiful, although £17.50 plus service seems too much to charge for a basic starter.
I feel the same way about my slices of smoked swordfish, which, according to the menu, are served with ''lamb's lettuce and chives'' and cost £9.50. Don't you just love that? As if you were getting some fabulous gourmet garnish just for the hell of it, instead of a few snips of greenery?
The truffle deal here is a £25 extra charge for white truffle grated over any dish, although we opt for the simplicity of homemade tagliatelle, thick and alarmingly chewy, and a risotto.
The maître d' shaves a small-ish shaving of good-ish Alba truffle over our dishes, but upon tasting we discover that both dishes are cold, the over-salted pasta is starting to congeal and the risotto is like a mound of wet concrete determined to set solid into a crenellated shape. Not even the greatest truffle in the world could save this disaster.
''Yes, I can see the problem,'' says the maitre d' and insists on taking it off the bill. So a disappointing truffle experience, although at least the chives were good.
Meanwhile, a dish of truffle tagliolini at the ritzy Cipriani in central London costs an eye-watering £60. For this, we get a plate of overcooked pasta with watery sauce each, but a veritable avalanche of white truffle shaved on top.
The problem is the truffle, which sleeps under a folded linen napkin like a pampered little baby and tastes of not much at all. Sure, there is a whisper of truffle perfume at the beginning, but it wafts away into nothingness, like a will o' the wisp.
Our best, and only significant truffle moment happens at Locanda Locatelli, which sends out the most perfect risotto I have ever eaten, divinely lolling under a blanket of aromatic Alba truffles which are stored and displayed in a glass jar.
It was almost as if a scientist, not a cook, had worked out the most perfect risotto formula; the rice was creamy and moist, but with a slight bite, although still cooked right through. The truffle had a good perfume and flavour and, in this instance at least, £45 seemed a fair price for this once-a-year treat.
Yet this whole truffle experience leaves me unsatisfied and disgruntled, with restaurants asking customers to make a big leap of faith in them and their produce, and then failing to deliver the goods.
Twice before, once in Italy and once at the Ivy, I have had incredible truffles, ones that tasted like warm smoke pouring down your throat before suffusing your heart in a Readybrek glow.
Locatelli's risotto at least stirred memories of those moments, but elsewhere, nothing even came close to it and, ultimately, you can't help but suspect that the white-truffle lark is a lot of overpriced, under-flavoured hype.
With such high stakes and the risk of such crushing disappointment, I'm not sure that I would ever again bother, or even recommend it. Perhaps Gordon's man is right. A spokeswoman for Italy's National Centre of Truffle Studies told me that some truffles are tasteless because they are pulled from the ground before reaching full maturation.
But who is going to tell you that when they are shaving wildly expensive flakes of it over your celebration lunch?
Roast, The Floral Hall, Stoney Street, London SE1 (020 7940 1300). A meal for two, excluding drinks and service, costs £60.