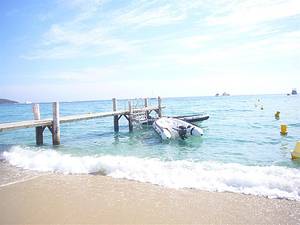 So this is what happened. It all began in 1955, of course, when Brigitte Bardot and her then husband, director Roger Vadim, were shooting And God Created Woman on the beach. They mistook a fisherman's hut for a bistro and asked if the owners would mind cooking for the crew. The owners, Monsieur and Madame de Colmont, didn't, so they did. When filming was finished, the Vadims liked it so much they kept on going for lunch and Club 55 was born. It started as an invitation only restaurant – 'for people we like' says Patrice de Colmont, the son of the original owners, who still works in his family's restaurant today. Then somehow, it evolved into one of the most famous restaurants in the world. Over the years in St Tropez, many more beach clubs and restaurants opened: Moorea, Bora-Bora, Aqua, and of course the notorious La Voile Rouge where naked women are sprayed with vintage champagne every day. But none have the cool or cachet of Club 55, which continues to attract a pungent mix of stars, royalty, locals and gangsters every day throughout the summer.
I missed P Diddy and Jerry Hall and Elton and David and Valentino. I missed Catherine and Michael, although noticed that the magazine fashionistas disapproved of her choice of handbag. Boxy leather? In a St Tropez beach restaurant? Oh how could she! 'Lose the baby blue bag, its too girly, not glam enough,' growled one. Poor Catherine! Here is a girl simply born to lounge on a yacht and all she gets is abuse about her seaside accessories. Meanwhile, I missed Hugh and Elizabeth and Arun by a day or two. I even missed Gordon Ramsay and his wife, Tana, which was a shame. It would have been fun to see the chefmeister stomp up the famous wooden jetty in his size 15 flip flops, then transverse across the sand - snowshoe-style - and into one of the most celebrated restaurants on the Cote d'Azur.
But so what if I did miss all of them? I had lunch in Club 55 and I would not have missed that for the world. For the surprising thing about the restaurant at Club 55 is not – of course - that it is famously jammed with celebrities every lunchtime during the long, hot St Tropez summer. It is that it is an excellent restaurant. Really terrific! And I hadn't expected that at all.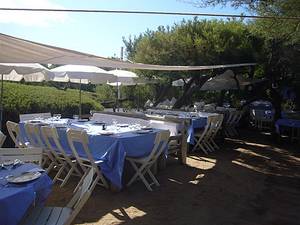 The first things that impress are its total natural beauty and understated sense of style. Behind its discreet pads of bamboo fencing, Club 55 is totally en plein. It is set under a stand of tamarisk trees at the back of Pampelonne beach, about five miles from downtown St Tropez. Behind the restaurant, the green hills and lush, rose-producing vineyards of Provence provide a soft, mossy backdrop. In front, as lunchtime approaches, the gleaming yachts of the super rich start to congregate on the glittering sea, like seagulls flocking to a sardine shoal. How has this place kept the rich and famous coming for over half a century?
Around 1pm, the aroma of hot pine from the sun-baked forests nearby mixes with frying garlic and the unmistakable scent of very fresh fish hitting a very hot grill. It is very seductive. And that's not even including the beautiful women who sip drinks at the bar, their gossamer scraps of kaftan or Pucci wraps thrown over tiny bikinis and some of the most expensive tans in the world.
Chic and cheerful
Inside the restaurant area, it is all very simple and very chic. There are white wooden tables and chairs, or U-shaped white sofas to accommodate large parties. The waiting staff wear nautical shorts as they pad along the restaurant boardwalks with huge baskets of crudités and platters of moules frites hefted on to their shoulders. Magnums of Club 55's own brand rose are crunched into buckets full of ice, while busboys lay up tables using cutlery and napkins stored in wicker baskets lashed overhead on to tamarisk branches. Champagne corks pop, the in-house band – an acoustic Afro-soul trio – start playing a sweet melody as another lunchtime at Club 55 gets underway.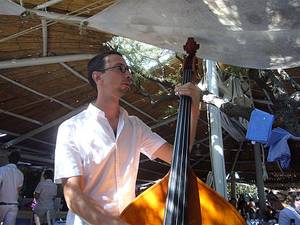 The menu sticks to a tried and tested range of Provencal or Med favourites. Alongside the crudités and plates of tiny crevettes, there is artichaut vinaigrette, salad nicoise, figues Garibaldi, steak tartare, hamburger a cheval, omelettes, big bowls of salad and the house speciality: a crisp tarte a l'oignon. There is a special selection of wild fish, all sparkling fresh and marvellously cooked. A nice, big St Pierre (John Dory) for two is as white as an iceberg with firm, moist flesh. It is served with delicious potatoes – cut into thin slices, and baked with oil – and a pot of butter sauce. Puddings are also simple and fresh; coupe de glace, fruit sorbets, fresh berries with a sprinkle of sugar, pot chocolat. Another house speciality - a glazed strawberry tart with a crisp, shortbread base and a layer of crème patisserie - and best ordered in advance.
Meanwhile, the afternoon rolls on. Shafts of light dapple through the trees and the noise level goes up. I'm sure Club 55 has changed in many ways since that first innocent summer, but somehow it has kept its charm and integrity. In spite of its success, the food has remained good. On this blessed stretch of Pampelonne Beach, Club 55 has kept its integrity and sense of style intact. The crowd may be different. The Russians may be coming. Yet it will sail on into the sunset, untouched by anything except its own quiet brilliance and fabulous atmosphere. No one left this restaurant today without feeling better about themselves and the world. No one went home feeling they had been hard done by, despite the restaurant's glitzy image.
.
Le Club 55, Plage de Pampelonne, Boulevard Patch, 83350 Ramatuelle, France. Tel: 0033 (0) 494 555555. Lunch for two, excluding drinks and service, 100 euros.