Jan meets Alain Ducasse at his new London restaurant...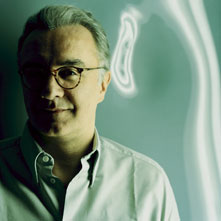 Alain Ducasse sits at the Table Lumiere in his new London restaurant at the Dorchester hotel. Inside this gourmet grotto, a curtain of fibre optic lights shimmer in a circle around him, while a glass vasselier at his side groans with a booty of Saint-Louis crystal goblets, delectable Hermès china and Puiforcat silver. Later these precious items will be laid on this table, a private space for six where dishes such as Ducasse's chestnut veloute with foie gras and whipped cream; oeufs mollet wrapped in silver leaf; and roasted pigeon with Tuscan crostini will be served. At the moment, there is nothing on the bare linen tablecloth in front of Monsieur Ducasse except a small cup of espresso and a copy of a restaurant review. This is a difficult moment for me. For it is my review of his newly opened London restaurant he is reading and it was not, shall we say, an entirely positive one. From across the table I can see that some of my sentences have been highlighted with yellow fluorescent pen and inky annotations have been made in the margins. For a restaurant critic, this is like having your homework checked by God. Ducasse taps his finger on the table and begins.
'Now. The person who does the vegetables is not happy with you,' he says. 'The man who bakes the bread is not happy with you. I do not serve my bread warm, as you say, but I do not do this for a good reason. If I do, people eat too much of it! And there was nothing wrong with your halibut.'
There was.
'No. You must understand that some people like it firm. It is firm when it is fresh.'
That was the problem, I say. It wasn't firm. It had no texture. It was too soft.
'Perhaps it was overcooked,' he says.
Well, that could suggest that there was something wrong with it. But no, it wasn't overcooked, it had a translucent point in the centre. Yet it had the wrong texture - it was too soft - and there was not much flavour, which led me to suspect it was cheap, farmed fish. Not the superior, wild variety you would expect on a menu charging £75 for three courses. And not that one would expect to see a little slice of dear old halibut in there at all; a country mouse out of place, perhaps, amid the soufflé bouche glasses, the porcelain sculptures and the waitresses clad in outfits designed by Amanda Wakeley. But Alain Ducasse is having none of it.
'What do you think, mmm? That I came to London to do this? Believe me, I did not come to London to cook farmed fish. All my fish are wild. I respect your opinion but I do not think I am doing this,' he cries, rather annoyed. 'After your review I am going to go back to the kitchen to learn how to cook. How to cook fish properly! Hmm. Ha ha!'
Then the dextrous business skills which have seen him build a culinary empire with 15 Michelin stars - a girdle of 27 restaurants strung across the globe from Rio to Singapore and beyond – finds a safer footing in the frosty confines of the Table Lumiere.
One more critic moaning about her fish dish; what does it matter to him?
'You must come again. I promise you that next time it will be better,' he says, with a smile.
At the age of 51, Alain Ducasse is one of the most famous chefs in the world. He is the man Gordon Ramsay aspires to be, the only serious rival to the likes of Joel Robuchon and Pierre Gagnaire. Born on a farm in south west France, he developed an early appreciation for local specialities such as mushrooms and foie gras and began cooking in professional kitchens when he was 16. He was meticulous, dedicated, quietly focused. After apprenticeships with great chefs such as Michel Guerard, Gaston Lenotre, and Roger Verge, his first notable success was at the Hotel de Paris in Monaco, where he won three Michelin stars for his cooking when he was 33. Yet this was not enough for Ducasse, who has always regarded expansion as the key to success. He still does. In an article published in the Independent on Sunday recently, Ducasse was incredulous that the UK's Heston Blumenthal, the chef-proprietor of the Fat Duck in Bray, seemed content to open only a measly two more restaurants. Meanwhile, Le Louis XV – Alain Ducasse in Monaco, still forms the bedrock of his business. 'It is the most luxurious restaurant in the world,' he says, and it is certainly good enough for Gordon Ramsay, who took his wife there on their first date. Meanwhile, Ducasse's restaurant at the Plaza Athenee hotel in Paris is known as one of the best in the city, while Beige-Alain Ducasse in Tokyo form the other twin peaks in his range of signature, luxury restaurants. They are the kind of places which are knee deep in truffles and caviar, where lavish main courses weigh in at around 100 euros each. Those expecting his new 80-seat London restaurant to hit the same heights of opulence have been disappointed.
'In London, there is no need for 25 high-end gastronomic restaurants. That would be too much. Here, I wanted to do something more contemporary and dynamic. I do not like to duplicate,' says Ducasse. Then he adds, perhaps more prosaically: 'In Monaco and Paris the average spend is between 350 and 400 euros per person. I could not transfer that to London. It would be too formal and too expensive.'
Ducasse has perfected the role of the modern executive chef, providing a template for an international fine dining kingdom operated by remote control and a crack team of chefs. Sometimes, however, I wonder if the effect this has on the restaurant trade in general and restaurant-going public in particular is an entirely positive one. For example, Ducasse sees no problem with international cultural homogenisation and in spite of current fashionable paeans to seasonality, he has raspberries on his London menu. In November.
He says: 'Today, there is not much difference in terms of palate and what people like. People travel so much now; they have so many different experiences. People in London travel to Tokyo, to New York, to everywhere. They are very spoilt. My clients are very spoilt in particular. And what they want here is not that different to what they want in New York. They want to eat the same thing, I think. Also, they are very unfaithful. They zapper a lot. They are not faithful to one or two restaurants; they like to change a lot. With the raspberries, well, you get fruit flown in from anywhere now. We thought about this a lot. But we decided we had to have a dessert with red fruit on the menu. You see, people came in from Brazil for dinner, and they want to have a red fruit dessert. They want to see it on the menu.'
Does this not conflict with current fashionable tendencies and your desire to serve seasonal food?
'Non.' Then a little shrug.
Perhaps the strangest thing of all about Alain Ducasse is how anonymous he is. Here, sitting in the middle of his grand restaurant, he could almost be the nightshift plongeur, not the grand fromage. Many who have raved about his famous truffled and roasted volaille de Bresse or his sea bass with candied citrus fruits, would walk past him without a second glance. In his sports jacket and trousers, made for him by his Lebanese tailor in Monaco, Ducasse has the peeled and startled look of a man who has just shaved off his beard and rather wishes he hadn't. Small and fine boned, much given to Gallic shrugs and peewit peeps of consternation or delight, he has the pallor of one who spends too much time incarcerated in the first class cabins of aeroplanes as they tear through the sky towards another of his restaurants. Also he looks half-starved, in the way that chefs often do. This morning, his wife made him some fruit puree to eat on the early morning Eurostar from Paris, for he never eats the food served on planes or trains. 'Unless I am nearly dying of hunger,' he says. This is because he once investigated the airline catering outlets at American airports as part of research for a business proposal. 'Ah, non! Not very nice, not very clean,' he says, with a shudder. 'Although I must say British Airways were the cleanest of all.'
Who was the dirtiest?
'It hurts me to say this, but it was the French.'
Yet he is less of a food snob than you might imagine. The other day he very much enjoyed fish and chips at the upstairs bar of Tom's Kitchen in Chelsea, the casual restaurant run by Michelin starred chef, Tom Aikens. Elsewhere, he has more surprising tastes. 'I like McDonald's chicken McNuggets with curry sauce,' he says, and I nearly fall off my cream leather chair and right into the crystal stacked vasselier. 'Yes, they can be nice although obviously I don't have them a lot. I stay trim. I only get fat when I eat food cooked by other chefs. At home, my wife does all the cooking. She makes simple things like soups and salads. We both liked steamed tofu.'
Ducasse married his long term girlfriend Gwenaelle Gueguen at the Hotel du Palais in Biarritz earlier this month. He says that she has changed him and 'made me a better person.' They married on St Gwenaelle's Day, in the hotel where he first worked as a young chef 30 years ago, which suggests that underneath his Lebanese jacket and sly, jester smile, he has much more of a romantic soul than one initially suspects. The wedding feast consisted of scallops, then roast turbot, then capon, all washed down with white burgundy and a jolly decent bordeaux. 'It was a nice meal, very classic,' says Ducasse.
Armchair psychologists might trace much of Ducasse's continued success and appetite for culinary glory to 1984, when he was travelling in a private Lear jet which crashed in the Alps. Everyone on board was killed except him. Bleakly, he says: 'I lay there for six and a half hours before help came. I left life, then I got it back. And when I was recuperating, I realised that when you are not useful in society, you are nothing. As my health got better, more people became interested in me and came to see me. So I always want to go forward and work hard and be healthy. The world forgets about people who are not useful.'
To date, Alain Ducasse has made himself useful in the nine countries across the planet where his restaurants are located. Soon he is to open three new restaurants, including one at St Regis Hotel in New York, and another next month when he takes over the Jules Verne restaurant in the Eiffel Tower. Nothing can stop him, least of all quibbles about the temperature of bread and the texture of fish. After a less than spectacular opening at the Dorchester, Ducasse is typically taking the odd cancelled reservation in his stride. 'It's just the usual problems you can expect when opening a new place,' he says. 'The place is full of critics, but I don't work for them. And I don't work for Michelin stars. I work for my clients and for their satisfaction.'
Read Jan's review of Alain Ducasse at the Dorchester elsewhere on the website